Spiced Smoky Mashed Potatoes
GaylaJ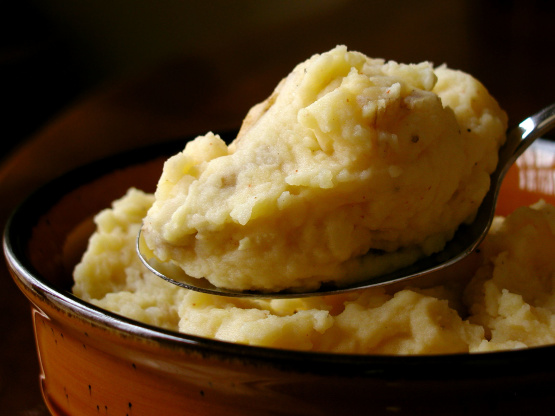 From Cooking Pleasures magazine. I used the lesser amount of chipotle powder and these were spicy enough for me.

This is very good, and has a fantastic rounded flavor. I used a mix of yukon golds and an heirloom pink potato, so my mashed potatoes were definitely kind of pinkish-tinged. My family doesn't appreciate spicy heat, so for them I mixed in smoked paprika instead. For my own serving, I sprinkled ground chipotle pepper on top and snapped the picture before mixing it in. Delicious! This is a flavor combination I will remember, and use again. Thanks, bobo3039! Made for PAC Fall 2008.
Peel garlic. Smash 4 of the cloves and mince the 2 remaining cloves.
Place potatoes and smashed garlic in large saucepan, adding enough water to cover by an inch. Add 1 tsp salt and bring to a boil.
Boil gently over medium heat for 20 to 25 minutes or until potatoes are tender when pierced with a fork. Drain well.
Meanwhile, melt butter in a small skillet over medium heat. Add minced garlic and chipotle powder. Cook 30 to 60 seconds until fragrant.
Bring milk to a simmer over medium heat in small saucepan. Keep warm.
Return potatoes to large saucepan and cook over medium low heat 1 to 2 minutes or until excess moisture evaporates, shaking pan as the potatoes heat. Potatoes will look dull and not moist.
Mash potatoes with a masher until coarsely mashed.
Add butter mixture and slowly stir in milk.
Add sour cream, remaining 1/2 tsp salt and pepper.
Stir vigorously to fluff.