Bergy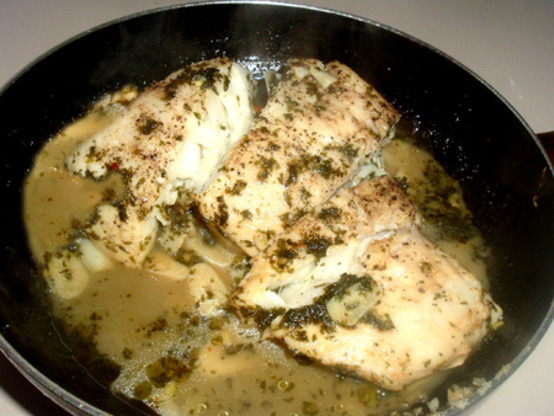 Adapted this from a recipe in "Cuisine at Home". The original included shrimp in the sauce, and served on a bed of sauteed collard greens. It was excellent, but I needed something simpler for everyday dining.

Top Review by Bergy
Excellent recipe - I had a lovely filet of fresh halibut, seared one side flipped it poured in the remaining ingredients, covered it with a lid for apprx 8 minutes - it came out flakey, moist and delicious.I put the parsley in with it while it was cooking. It would look nicer sprinkled on top as a garnish (as you suggested) Thanks for posting this recipe Dianegrapegrower
Sear seasoned halibut on both sides in 1 T. oil in a non-stick skillet over medium-high heat. Cook just until done, remove to serving plates and keep warm.
Add 2 T. oil, garlic, pepper flakes, and bay leaf to skillet; saute just until garlic begins to turn golden and fragrant.
Deglaze with sherry and lemon juice, simmer briefly to reduce a bit, and finish with parsley.
Spoon sauce over halibut and serve.