Debbwl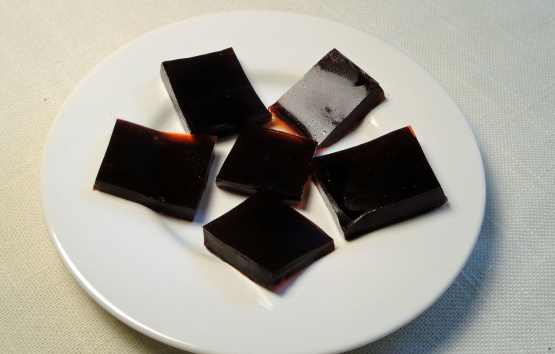 These mouth-puckering gummy candies can be made in any flavor you desire, but I would recommend trying to match complimentary Jell-O and Kool-Aid flavors. The Kool-Aid can be increased to a full package if an extra sour flavor is desired. To make a sugar-free candy, substitute sugar-free Jell-O.

Top Review by Debbwl
A really fun candy to make that is a whole bunch easier on both the dental work and the waist line. As it was just DH and myself just cut dark sour cherry gummys into squares but think it would be a ton of fun to have children cut into worms or stars. Thanks for the post.
Prepare an 8x8-inch pan by spraying it lightly with cooking spray. Alternately, you can use sprayed candy molds to make gummy shapes.
Place the water in a small saucepan over medium-high heat and bring to a boil.
Immediately add the Jell-O, Kool-Aid, and gelatin and stir vigorously until it has all dissolved.
Pour the candy into the prepared pan, or spoon it into the prepared molds. Place in the refrigerator to set for approximately 20 minutes.
Candy can be cut into worms, squares, or shapes using cookie cutters. You can roll in sugar or other half of Kool-aid for an extra sour kick.