Sour Cream-Strawberry Surprise
Prep 15 mins
Cook 30 mins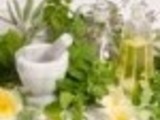 This will delight those who can't find Crême Fraiche.You will be surprised how tasty this is.
Directions
Blend together sour cream, brown sugar and vanilla.
Combine strawberries into sour cream mixture.
Refrigerate about half an hour.
Serve and enjoy.
Most Helpful
Pretty nice.
The vanilla adds just a little something more to this.

This is actually my dad's version of strawberries and cream (with regular white sugar, not brown) and he used to make it for me all the time when I was younger. I love it!