Rita1652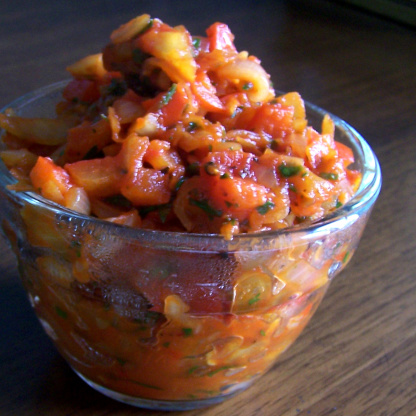 Is a traditional base to many latin-style dishes. The building block mixture of annatto, onion, garlic, peppers, and cilantro adds a wonderful flavor and depth to almost any meal. This freezes well and can be used throughout the year.Can be put into ice cube trays then removed when frozen and place in freezer bags.

I made this several months ago and forgot to review it. I also made the Annatto Oil from scratch. As suggested, I froze it in ice cube trays and use a cube or two when needed. The flavor is so fresh and bright. Even after being frozen for a couple of months it still brightened up a small pot of soup I made and gave it a wonderful depth of flavor. This is a definite winner!
Heat Annatto Oil in a large heavy bottom skillet over medium-high heat.
Add onion; sauté 1 minute.
Add bell peppers, jalapeno, garlic and paste.
Cook 10 minutes; stir frequently. Stir in rest of ingredients.
Jar or freeze if not using now.