Smoky Barbecue Chicken Pizza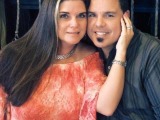 This is a Pampered Chef recipe. It is my husband's favorite pizza.
Make and share this Smoky Barbecue Chicken Pizza recipe from Food.com.
Directions
Preheat oven to 415 degrees.
Roll pizza crust into a 12 inch circle on baking stone or spread out as a rectangle on a rectangular cookie sheet (I do the latter).
Sprinkle crust with 1 cup of shredded cheese.
In small bowl, combine chicken and barbecue sauce, toss to coat.
Add bell pepper and onion to chicken mixture.
Top crust with chicken mixture.
Sprinkle with remaining 1/2 cup of shredded cheese.
Bake 15 to 20 minutes or until crust is golden brown.