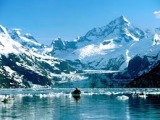 This is a great party drink recipe. You need to make it at least a day in advance. I like to leave a container of this mix in my freezer during the hot summer months. Whenever friends pop by (or if you've had a hard day!); it's easy to scoop out into glasses, add 7up or gingerale and you have a refreshing drink! I'm guessing at the serving amount, I just know that it makes A LOT!
7 cups water
4 tea bags
1 cup sugar
1 (12 ounce) can frozen orange juice, thawed
1 (12 ounce) can frozen lemonade, thawed
750 ml vodka
1 (2 liter) ginger ale (1-2) or 1 (2 liter) 7-up (1-2)
Directions
Bring water to a boil.
Remove from heat and add tea bags for 15 minutes.
Remove tea bags and add sugar, stir until dissolved.
Pour into the large container you will be freezing it in .
Add your cans of orange juice and lemonade, stir well.
Add vodka, stir well.
Freeze! It takes about 24-36 hours to freeze properly.
Once frozen, scoop out into glasses (about 1/2 full) and add gingerale or 7-up.
Let the party begin!
Most Helpful
This reminds me of a punch you'd serve at a bridal shower or baby shower. Its so sweet you can't even taste the vodka. Perfect slushy texture. I might not add as much ginger ale next time. I think it makes it a bit too sweet....however, this is "the" perfect summertime drink...it'll cool you off, and is absolutely no work once you put it in the freezer. Thanks for sharing this refreshing recipe. Made for TYM tag.

I use this recipe for the holidays. I add a small jar of maraschino cherrys with juice. Makes a pretty pink hue and gives it a nice flavor
Made for Holiday Tag. So easy and I can't wait to share with friends and family when they come to visit! Very tasty!