Slow Roasted Herb and Garlic Lamb Shanks
JustJanS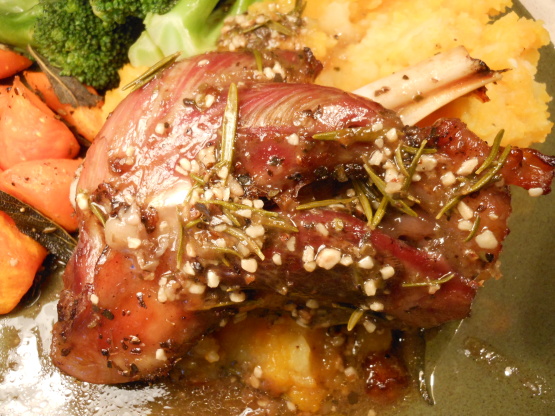 This dish is paired with Sage and Pumpkin Mash as a side and as part of an dinner party menu from Super Food Ideas. Times are estimated.

I made this tonight for the two of us. I used ALL the liquid, three small sprigs of rosemary, two teaspoons of dried oregano (2 tablespoons would be a huge amount) and 4 cloves of garlic. In my opinion, that would be more than enough seasoning even with 8 shanks. Once the foil came off, the liquid almost reduced to nothing-it would have been hard to get enough to serve over the full amount of shanks. Never mind, this was absolutely delcious and we both loved it thanks Pat.
Preheat oven to 170C (150C fan forced).
Arrange rosemary across base of a large roasting pan and sprinkle with half the oregano, turn and sprinkle with remaining oregano.
Arrange shanks in a single layer, in pan and add garlic and season with salt and pepper.
Pour white wine (or sherry) and stock into pan and cover pan with foil and bake for 1 hour and then remove from oven and turn shanks and re-cover and bake for 1 hour 20 minutes or until tender.
Remove shanks from pan and skim fat from pan juices and serve pan juices drizzled over the shanks.