gailanng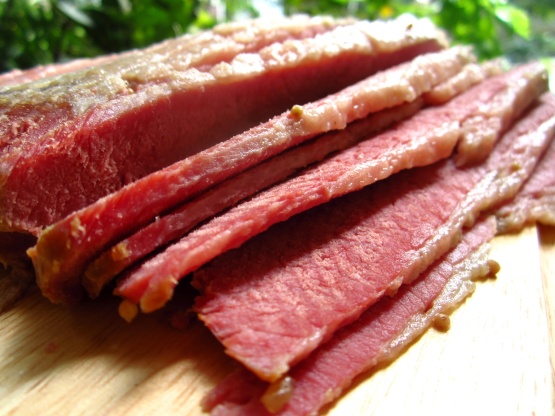 This slow cooker corned beef recipe is so easy, with basic ingredients, and it cooks on low for 7 hours. It is basic, but it is so very delicious. Hubby gave it 5 stars out of 5 and even my fussy 2-year-old ate it all. Hope you enjoy it! We ate this with roasted vegetables, and I topped mine with pickled mustard; my husband used gravy.

Great recipe! I used beef broth instead of water and red wine vinegar instead of white. I added some yukon potatoes and baby carrots for a complete meal. Thanks for the simple and great recipe.
Pour into slow cooker water and vinegar,
peel and cut onion into quarters, add to slow cooker,.
sprinkle in brown sugar,.
place meat into slow cooker,
cover, set to low and leave for seven hours.
Let stand for ten minutes before slicing, meat is so succulent.
Top meat with mustard pickles, chutney or relish.
Serve with your favourite vegetables, its such a quick and easy meal but so yummy, enjoy!