Skinny Version of Bergy's No Sugar Iced Coffee
Annacia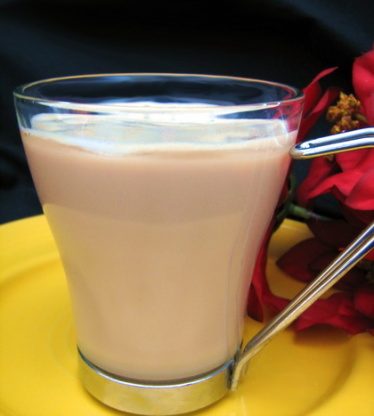 My family and I became addicted to Bergy's No Sugar Iced Coffee but needed a less guilty version to feel free to enjoy it several times a day. I shared this version with Bergy and she suggested I post it. Her original version is beyond delicious.

I like the concept but really needed to trim back on the Splenda and milk content for my tastes. There is no way that I could use 1/3 cup of Splenda in just 2/3 cup of coffee ( even with it being strong). Same for the milk, I used at the most 1/4 cup of powdered milk and that created a white out in my cup. Not a drop of half and half was needed. While I appreciate the effort to make a recipe healthier I'm afraid that I'll not be making this one again. Made for Comfort Cafe, Jan 09.
1

cup nonfat dry milk powder

1

cup Splenda sugar substitute
1⁄3 cup water

2

cups strong coffee, cooled (2 c water with 2 T instant coffee)
1⁄2 cup fat-free half-and-half
Combine all ingredients in blender with some crushed ice and blend.
Better actually if you combine all the ingredients in a blender and them partially freeze the mixture and blend again (just a stronger coffee flavor).