Skewers of Lamb, Prosciutto, and Sage
Luschka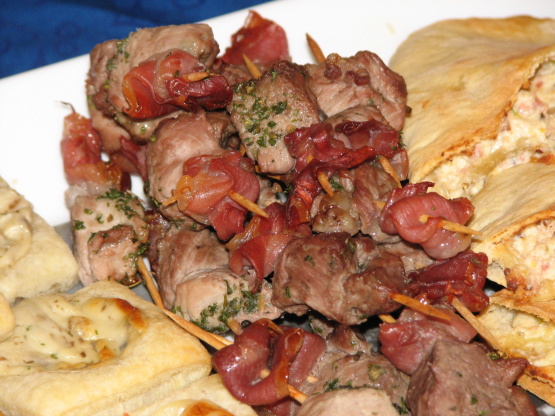 Aka: SPIEDINI DI ABBACCHIO

SENSATIONAL: I knew I was going to love this when I tagged the recipe, but I didn't know just how much. Loved the bread cubes and could so, so easily have eaten heaps more but to lower the fat content - my only change to the recipe - I halved the bread so used very much less oil in the pan, and added some button mushrooms - brushed lightly with some oil - to the skewers. Extra-virgin olive oil, of course! Just LOVED the blend of flavours: love lamb, love prosciutto, love sage. This is a recipe I'll be making again. And it's one that's so easily prepared ahead and doubled once or twice for serving a crowd. Thank you for sharing this wonderful recipe. Made for PRMR.
Preheat the oven to 400 degrees F.
In a skillet, heat the olive oil until almost smoking.
Add the bread cubes and fry lightly on all sides.
Remove to a plate lined with paper towels to drain.
Thread 4 wooden skewers with bread cubes, prosciutto, lamb and sage leaves until all ingredients are used up.
Season with salt and pepper, to taste, and place on a broiling pan.
Broil in the oven or grill 15 minutes or until all ingredients are crisp.