Simple Simons Birthday Bones
Prep 20 mins
Cook 20 mins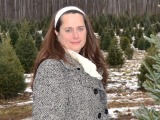 This recipe is from my "3 Dogs Bakery Cookbook". A cookbook especially for dogs. The recipes are natural and you could eat them yourself if you wanted to. My dogs love these.
Directions
Preheat oven to 375 degrees.
In a bowl combine flour and baking powder.
In another bowl combine milk and peanut butter.
Mix wet and dry ingredients together. Mix well.
Turn out dough on a lightly floured surface and knead.
Roll out dough to 1/4 inch thick and cut into shapes.
Place on a greased baking sheet and bake for 20 minutes or until lightly brown.
Cool on a rack and store in an airtight container.
Most Helpful
These were a snap to make and the ladies loved them. They were a little hesitant at first because they don't really know about peanut butter. But once they tried them they liked them. Made for PAC Spring 2012.
My dog, Triumph is a picky eater (maybe she gets it from me!), so I was glad when she gobbled these up. She's a little pooch, so I only made 1/3 of the recipe and used a small cookie cutter to get 24 biscuits.
I was a little skeptical about this recipe but my dogs LOVED it. The best thing was, they were very simple to make and my dogs are willing to behave for them =) The dough was very pliable and was easily rolled out for cookie cutting. Thank you for an inexpensive, healthy, alternative treat for my pups!