Simple Roasted Tomato and Garlic Sauce
emcquaid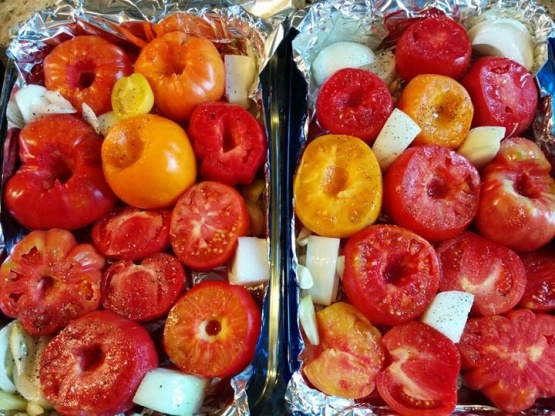 So simple and good for you! Perfect sauce for pizzas and pasta. Can be substituted for canned tomato sauce in any recipe. Doesn't require ripe tomatoes. Make lots when tomatoes are cheap, and freeze it in batches.
I would recommend removing from the tomato where the stem attaches before cooking (very hard to remove afterward) and placing the tomatoes cut side down in the pan. I found the cut side dried out too much and formed a "skin" when facing up, which made it difficult to remove the actual skin afterward. If one is going to make a pasta sauce from this, I recommend further processing the sauce by: 1) straining out any seeds and remaining skin for smoother consistency, 2) cooking the sauce down on stovetop at a simmer for several hours, 3) adding sauteed onions, basil, italian spices, pork bone, grated cheese and SALT
Slice tomatoes in half. Slice top 1/2 inch off of garlic to expose cloves. Arrange garlic and tomatoes (cut side up) on foil-lined baking dish. Drizzle olive oil over garlic. (This will keep garlic from drying out and getting bitter.) Sprinkle with salt and pepper.
Roast in 350 degree oven for 50-60 minutes. Remove from oven and let cool for easier handling.
Pour juice out of tomatoes. Discard juice. Squeeze tomato pulp and roasted garlic into blender or food processor. Dicard tomato skins and garlic paper. Blend or process for 5-10 seconds to obtain a smooth consistency.