Simple Cranberry and Toasted Walnut Stuffing
flower7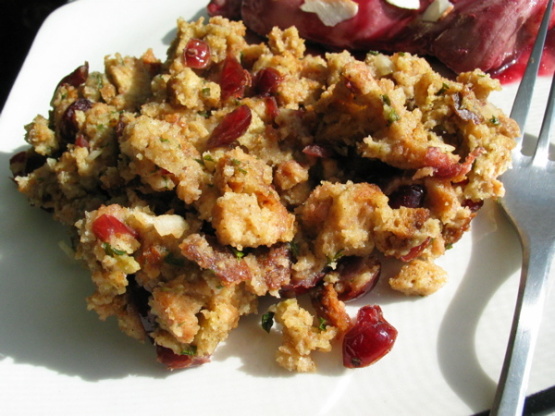 This recipe was in the latest (Fall 2005) edition of Kraft What's cooking. It looks so tempting and is so easy to make. Prep time 5 minutes. Make your traditional stuffing and have this as a lighter side dish. I made this stuffing for Thanksgiving--made it in the morning and popped it in the oven 35 minutes (350°F) before serving--everyone raved about it

This was good. I wouldn't want it every time but it's a nice change from plain old stuffing. I ran across this on the Kraft web site and it says to just add the cranberries and walnuts after making the stuffing. I think I like it better this way. The cranberries get a chance to soften in the boiling water. I used corn bread stuffing mix. Thanks for the recipe.
Bring 1 cup water, cranberries & margarine (butter) to a boil.
Stir in stuffing mix, cover, remove from heat, let stand 5 minutes.
Fluff with a fork and stir in walnuts.
If you wish sprinkle some fresh chopped parsley over top.
That's it - Serve.