Sageca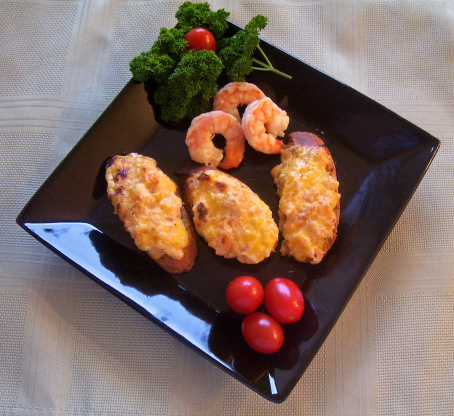 This is my Uncle Paul's recipe. We had these for a family get together as a passed horsdevour and everyone loved them so much, they never really ever made past the kitchen.
I made this tonight, as time was short and hubby didn't want a big meal. (Appetizers to the rescue!) He liked it, but I did not. It tasted too much of mayo to my liking. I would think it would be improved by using cream cheese instead of mayo. Maybe you could overpower the mayo taste with some onion or mustard? I won't be making these again as the recipe is. (I did follow it exactly, except for being a bit generous with the cheese and using regular sourdough bread slices instead of buns.) I did add a dash of Old Bay per one reviewer's comment, but I guess I didn't put enough in, as the mayo taste was simply too strong for me. It was real mayo. It melted as expected, but was still strong tasting.
Cut rolls into 24 slices, about 3/8 inch thick. Toast slices lightly.
Mix shrimp, cheese and mayonnaise. Spread on bread slices and broil until cheese is melted and bubbly.