Debi9400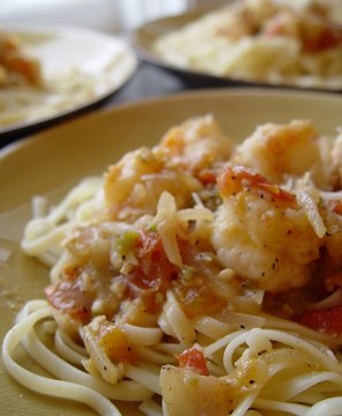 This is a very simple recipe that I cook quite often. And is it Yummy!! The recipe says it's for two but if I am hungry it will only feed me!! It is in a spicy(!) white sauce and placed on top of linguini.

I used a seafood mix (shrimp, squid, octopus, and crab meat), a can of diced tomatoes and doubled the recipe. It was delicious! Except that my husband thought it was too spicy! (And I did take out most of the jalapeno seeds!) We will definitely make this recipe again!
In a large sauté pan, melt butter over medium high heat. Sauté onion and jalapeno about 3 minutes. Add garlic, diced tomato and shrimp and cook until shrimp is opaque,
about 2 minutes. Add lemon juice and white wine and reduce until sauce thickens,
about 2 minutes.
Divide cooked linguine into two bowls and spoon sauce over. Serve immediately.
Add a little parmesan cheese if you want.