Shrimp and Chicken Rice Paper Rolls
Bergy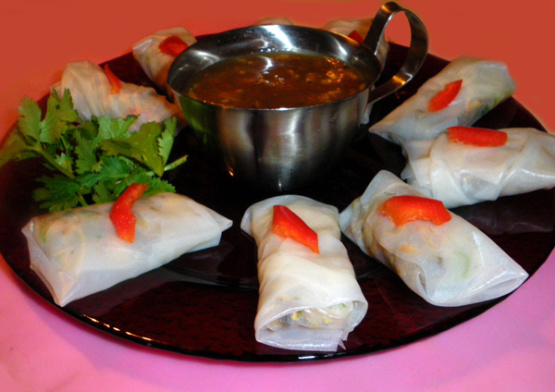 I was just fooling around and came up with this simple recipe - served as an appetizer at midnight New Years Eve, If you have never worked with Rice paper there is a tutorial here on Zaar. Rolls were served with Thai Dipping Sauce for Spring Wrap or Egg Rolls I used the small rice paper rounds but you can use the larger ones and have these as a side dish.

Loved these! I also add in some soy sauce and cayenne pepper, I used almost half a pound of smaller cooked shrimp that I finely chopped, what a great recipe and I will make again soon, thanks Berg! forgot to mention I used my recipe#350238 for the sauce
6

large prawns, cleaned, shell & tail removed, chopped

3

ounces chicken, cooked, chopped

4

tablespoons sweet peppers, finely chopped

4

tablespoons celery, chopped

2

green onions, chopped

2

large mushrooms, chopped

2

garlic cloves, chopped

8

sheets rice paper, six inch rounds
Prepare all the ingredients and stir fry on a lightly greased pan until heated through and the prawns are cooked.
Set aside to cool.
Fill a bowl large enough to to slide a wrapper into it allowing the rice paper to completely submerge.
Leave it for approx 30 seconds or until it is pliable.
Take it out and slip another into the water.
Place a tbsp of fill on the pliable wrapper bring up the bottom edge, fold in each side and roll it so you have a small cigar.
Continue until you have made them all.
These can be made several hours ahead before serving just cover with plastic wrap and refrigerate - bring to room temperature before serving.