Rita1652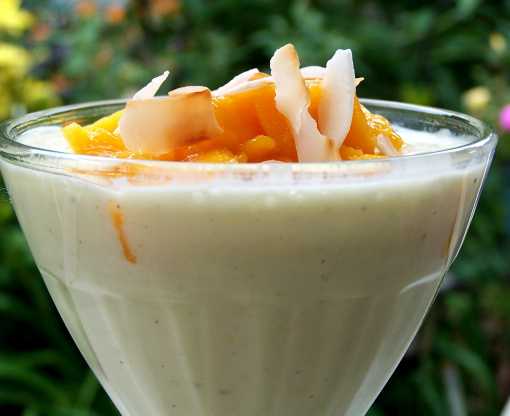 Heres a classic Indian dessert, made with drained yogurt, cardamom, and saffron. The saffron is toasted until brittle so that you can grind it easily. If you grind your own cardamom seeds, use only a half teaspoon instead of the quantity in our recipe. Time does not include One hour refrigeration.
Top Review by PaulaG
The yogurt was drained last night and sweetner added. It sat in the fridge until this evening. This is a wonderful blending of tartness from the yogurt and the sweet of the mango. DH isn't a real cardamom lover and he thought the taste was a little strong and I thought it was very good!
In a small pan, toast the saffron over low heat, stirring, until brittle, about 2 minutes. Re move and pulverize in a mortar with a pestle or on a cutting board with the side of a large knife blade.
Put the yogurt in a large bowl. Put the saffron back into the pan and add the cardamom and water. Bring just to a simmer, stirring. Whisk the saffron mixture into the yogurt.
Put the yogurt mixture in a strainer lined with cheesecloth, a coffee filter, or a paper towel and set it over a bowl. Let drain in the refrigerator for 1 hour. Transfer the yogurt to a bowl. Add the 1/3 cup sugar, or more to taste. With an electric mixer, beat the yogurt until slightly thickened, 2 to 3 minutes. Pour into bowls and refrigerate until well chilled, or put in the freezer until very cold but not frozen, about 30 minutes.
Meanwhile, in a small frying pan, toast the coconut over low heat, stirring, until golden, about 2 minutes. Serve the shrikhand topped with the mango and coconut.