froglet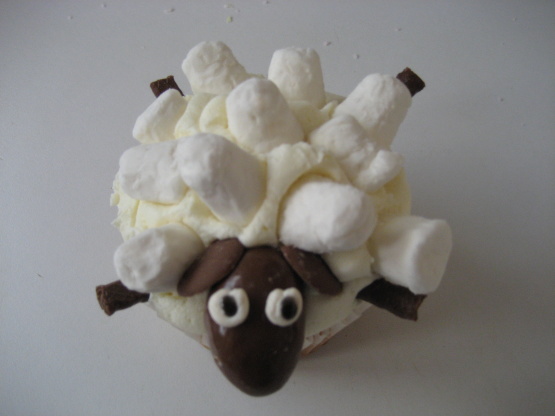 I mixed a few ideas to makhttp://www.recipezaar.com/members/subm/editr2.php?sid=4664933e these cupcakes, and they went down a storm at the Findon Sheep fair in Sussex, UK. You could use what ever chocolate you can find for the head, ears and legs. I thought that they looked pretty cute with just the eyes, but you could add a red icing smile or tongue, and nostrils. You can also use a little tubes of writing icing for the white and black of the eyes.

these were great! had the cupcakes, large size, and two 5 yr olds to help stick on the marshmallows! we used a chocolate clinker for the face, and used melted chocolate to glue on the eyes. I got chocolate "bullets" for the legs, but ended up with a few "leg-less" sheep, as the kids said they didnt like licorice. They went down a treat at the 3 years old's party. next year I want to try the insects! they look good too!
Baking:
Preheat oven to 180 degrees celcius/350 degrees fahrenheit.
Sift the flour.
Mix all ingredients slowly, then fast, for 1 minute, until pale and creamy.
Spoon into muffin-sized paper cases and bake for 15-20 minutes.
Decorating:
Mix first 4 ingredients and beat until pale and creamy.
Pipe or spread a quantity of icing onto each cupcake, to cover the top, keeping back a small quantity to do the eyes.
Place 1 chocolate-covered brazil nut onto each cupcake where you would like the head to be.
Snap a chocolate button or coin in half and place on either side of the head as ears.
Snap the chocolate sticks into 4 pieces and insert each piece into the cupcake where you would like the legs to be.
Place marshmallows all over the rest of the icing.
Place 2 blobs of icing onto each brazil nut for the eyes (Or use ready-made white icing squeezy writing tubes).
Place a tiny chocolate chip(or a blob of black icing) onto each white eye.