-Sylvie-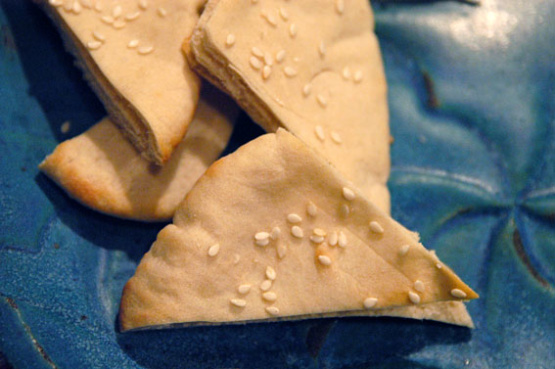 I got this from Ideal Homes magazine. They are so simple to make and really nice served with your favourite dip.

I must admit that the first time I made the recipe I burned them and didn't want to rate it. I made them again today. Sprayed them with olive oil and did half with sesame seeds + rosemary & salt flakes. I cooked them under the griller (broiler) and watched them VERY VERY carefully! Perfect. We ate them with pate and red pepper marmalade. Thanks for the recipe
Carefully split your pita pockets and tear each half into three smaller pieces.
Brush with olive oil and place on a baking sheet.
Sprinkle with sesame seeds and salt to taste and bake for 8-10 minutes in a preheated oven (200C/400F/Gas Mark 6).