Sesame-Chile Chicken With Gingered-Watermelon Salsa
rpgaymer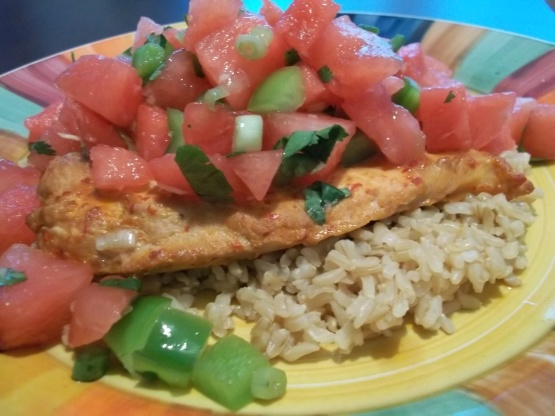 This looked too good to pass up when I found it in Cooking Light magazine. I have not had the pleasure of trying it yet, but I will this summer! Serve over a bed of jasmine or basmati rice.
To prepare chicken, combine soy sauce, chili sauce and sesame oil in a large zip-top bag. Add chicken and seal to marinate for 1 hr in refrigerator. Turn bag occasionally.
Prepare your grill.
To prepare salsa, combine watermelon, yellow pepper, green onions, cilantro, ginger, mirin, lime juice, salt and jalapeno. Cover and chill until ready to serve.
Remove chicken from marinade; discard marinade.
Sprinkle chicken evenly with 1/4 teaspoons salt.
Place chicken on a grill rack coated with cooking spray.
Grill 6 minute on each side or until done.
Remove chicken from the grill and let stand 5 minute.
Cut chicken diagonally across grain into thin slices; serve with salsa.