Serviette/Napkin Folding, Marie's Lily Pad Flower
SashasMommy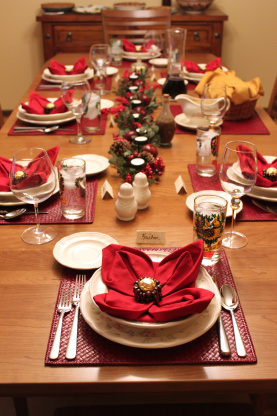 Between the teachings of my Grandmother, an Aunt, my Mother and several restaurants I learned a lot about serviette/ napkin folding.. Works well with cloth napkins, or larger paper ones. I have included step-by-step photographs to illustrate/supplement the written directions. For neater presentation use ironed napkins for this fold. This one is one that a friend of mine who did origami called the Lily Pad Flower ( Thanks Marie!) I subsequently taught it to another friend who's mother would lay in the center of the finished flower, a small tea-light candles on thick little round metal disks that they originally got from an Central Otago blacksmith in New Zealand in the 1930's. I personally use this one as a base on which to stand water glasses on the table.

Thank you for posting your napkin directions, with all the helpful step by step directions. I'm normally utterly useless at napkin design and these not only helped me tremendously but my guests made delighted comments!
1

paper, serviette (large)

1

cloth, serviette (large)
Lay your serviette square out flat before you in a square shape.
Take the top right corner and fold the point into the center point of the square. Repeat with the other 3 corners. You should have a diamond shape in front of you.
Take the East point of this diamond and fold it into the center point, and repeat with the other 3 corners. The serviette will be square again and have gaps in the form of an X.
Carefully turn the serviette over and fold each of the corners into the center point again.
Carefully turn it over and you will see 4 loose points on the underside.(this step is only to make the next step clearer).
Turn back over to the previous side, lay the serviette down and press firmly on the center point where the 4 corners meet. Carefully reach underneath with your other hand and grab one of the loose points on the underside and bring it to the outside of the corner that it belongs to. This creates the outer petal of that quarter of the flower.
Repeat with the other 3 corners.
If you are not putting something in the center of this serviette you may need to carefully secure the 4 central points with a pin.