Seasoned Roast Vegetables
Redsie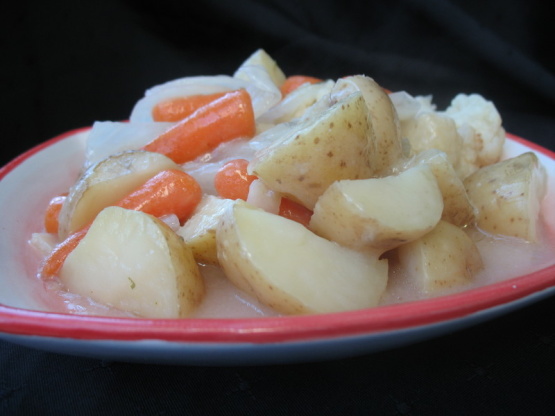 When my husband does a roast on his BBQ rotisserie I do the veggies like this to save on dishes, everything altogether in the one pan. I usually use a spring vegetable soup mix but french onion is also delish! Experiment with different soup mixes according to your mood!

Top Review by Redsie
I was pleasantly surprised by this dish! I used potatoes, onions, baby carrots and cauliflower. As for the dry soup mix, used Knorr's leak soup. This turned out quite tasty - all I added was some nice fresh pepper. I also only cooked it for about an hour (as my veggies were not whole). Thanks Mandy - this is a keeper!! :)
1

kg mixed vegetables, chopped into chunks (potatoes, onions, carrots, capsicums etc)

70

g packetdry soup mix (choose your favourite flavour)

473.18

ml water

29.58

ml olive oil
Place vegetables in a pan.
Combine soup mix & water and pour over vegetables, add olive oil.
Stir vegetables to get an even coating.
Bake at 180.C for approx 2 hours or until vegetables are tender.
Check and stir the veggies every half hour or so to avoid them sticking and add more water if necessary.