Scrumptious Rocky Road Nougatine
Zurie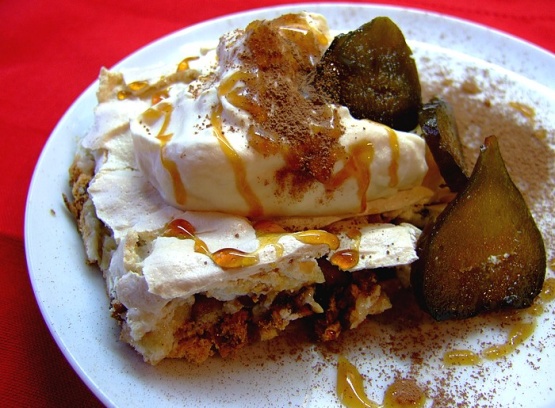 This is an irresistible dessert of marshmallowy, rocky-road, crispy-topped deliciousness!! It has a certain rustic charm about it, as it's just about impossible to remove from the tin in neat squares, but once tasted, you'll realise that it does not matter at all! I've sliced a preserved green fig for the photographs and used a syrup which is maple-flavoured, to drizzle over. Preserved green figs are bottled whole, and widely available in South Africa. Preserved watermelon-and-ginger pieces will also work, but it's probably only known to South Africans. Use whatever kind of preserve you think suitable. The original recipe was incomplete, so I tweaked and changed it. Cover the cracks in the meringue with a blob of cream! I timed the prep time, which included chopping and cutting and well as a heated few minutes when an egg yolk broke and some yolk got into the whites ... If that happens, use one of the broken egg shells to fish it out.
1⁄2 lb dates, chopped (250 g)
1⁄4 lb italian biscotti cookie (125 g)

7

ounces cashew nuts, roasted, chopped (200 g)

14

ounces superfine sugar (400 g caster sugar)

1

tablespoon cornstarch (15 ml cornflour)

1

teaspoon baking powder
1⁄2 teaspoon salt

8

egg whites, at room temperature

2

teaspoons vanilla

Garnish

green fig, preserve (or bottled watermelon pieces or any fruit you think suitable)
honey or maple syrup
sweetened whipped cream
Prepare the first 3 ingredients (crush the cookies roughly) -- you can use suitable substitutes. Amaretti cookies or ladyfingers would be fine. The biscotti I used had a thin layer of chocolate on top.
Weigh the sugar, and simply add the cornstarch, baking powder and salt to the superfine sugar in the bowl of your scale, and mix in well. Use the back of a tablespoon to break up any little lumps in the sugar.
Grease and line a swiss roll tin with non-stick paper, and grease again. Grease well with butter, as the meringue might stick otherwise. The tin I used measures 15 1/2 x 10 1/2 inches, (38 1/2 x 26 cm) on the bottom, not including the sides.
Heat oven to 225 deg F or 110 deg Celsius.
Make absolutely sure the egg whites do not have a speck of yolk or shell in them, and use a very dry bowl, preferable stainless steel, but my plastic bowl works just as well.
Whisk the egg whites with the vanilla until soft peaks form,then add the superfine/caster sugar mixture bit by bit, beating well until the sugar is incorporated. By the time all the sugar has been added, the meringue should be thick, glossy and a little hard to handle.
Fold in the prepared dates, cookie bits and crumbs and chopped nuts.
Spread mixture evenly in the prepared tin with a spatula. Take a little time over this, but be prepared that this mixture will not rise absolutely evenly.
Bake for 1 1/4 hours. The meringue will be very pale gold on top.
Remove and cool.
To serve, use a serrated bread knife to mark carefully into squares, and use an egg lifter to remove the squares. It's easier to start in the centre and work your way outwards, but be prepared that the gooey, soft inside will cause the crisp top to crack.
Dust cake plates with cocoa powder.
Place the square of nougatine slightly to one side, top with whipped cream, and drizzle decoratively with a little honey.
Finish with slices of preserved fig, or a square of watermelon preserve (or whatever fruit you think will go with it).
This nougatine will serve 8 - 12, depending on portion size.