Scrambled Eggs (Oeufs Brouillés)
lazyme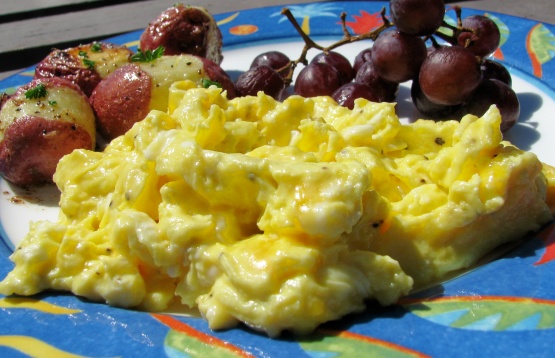 This is a recipe I found on Cuisine-France.com that I adapted, to add some cheese, in order to be like a hotel's French restaurant's eggs for brunch that I enjoyed. I am posting this for ZWT France leg of the race. Times weren't stated, so this is a guess, as this is untried by me as of now.

As far as I'm concerned, this is the ONLY way to eat scrambled eggs. I love them soft, almost underdone. Not those dry, rubbery things my mom used to make :) And the addition of the cream and cheese at the end makes them even better! Thanks for this keeper. Made for ZWT8.
Step 1: Put the eggs, salt and pepper, and water in a bowl. Beat for 30 seconds.
Step 2: Coat a pan with butter. Pour in the eggs. Cook over low heat. Stir several times to get thick ribbons but not tiny pieces. Remove from heat when the eggs have thickened, remove pan from heat.
Step 3: Stir in the cream and cheese. Taste and season if needed. Decorate with parsley.