Scrambled Egg Whites W/Spinach & Garlic (For One)
Satyne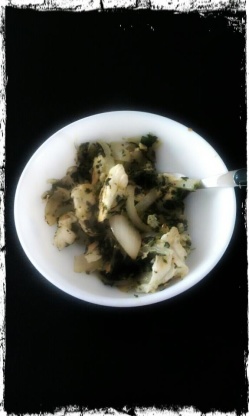 Garlic lovers and health nuts only! This single serving recipe is an extremely simple, yet flavorful variation on scrambled eggs. The cottage cheese adds a moist texture and the garlic gives it great flavor. Both spinach and garlic have wonderful health benefits (antioxidants, disease prevention, high vitamin content) and egg whites are a wonderful source of protein so it's a great way to start out your day! (Try adding cooked diced potatoes once and awhile - it's fantastic!)

Quick, easy, filling! With the addition of 1 tsp of healthy oil, this is 4 WW PointsPlus. Thanks for posting.
Heat a non-stick skillet over medium/high heat. (Optional: add a tsp of olive oil if you would like more healthy oil in your diet).
Cook frozen spinach until all excess water has evaporated (takes about 2-3 minutes - you can prep garlic and onions during this time if you like).
Add garlic and onions to skillet and cook until fragrant (about 1-2 minutes).
Add egg whites and scramble until partly cooked then add cottage cheese and continue to scramble with your spatula mixing everything together.
Cook for about 3-5 minutes or until egg whites are fully cooked and cottage cheese is bubbly and has begun to evaporate. It should have a creamy yet solid texture. Add salt to taste.
(NOTE: It will not get bubbly - or as creamy - if you use drier cottage cheese, like the ones in the single serving containers).