Bergy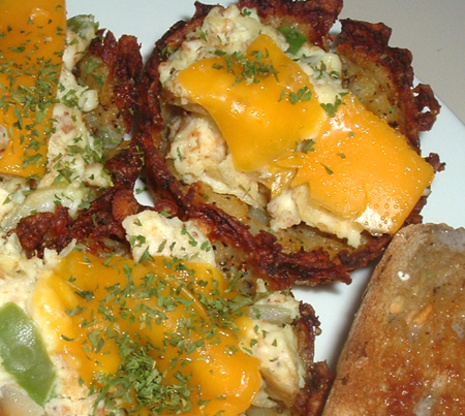 In these easy and charming bites, shredded potatoes are baked in a muffin tin to form crunchy cups, which are then filled with scrambled eggs to make a festive and kid-friendly finger food.

Top Review by Bergy
Very easy to make and gives a nice presentation. I made 6 nests in large size muffin tin. Make sure that you press the potatoes well into the sides and botton. Be sure there are no spaces in the bottom and have even layers on sides and bottom. They browned nicely and had crisp edges.I made them first thing in the AM and set aside until I wanted brunch. I used bits of bacon instead of sausage meat. Thanks looneytunesfan for a lovely Sunday Brunch
Heat the oven to 400°.
In a large bowl, toss together the potatoes, 1/4 cup of the oil or butter, salt, and pepper.
Spoon about 1/3 cup of the potato mixture into each cup of a 12-serving muffin tin. Press the mixture into the bottom and up the sides of each cup, then bake until golden brown, about 30 to 35 minutes.
Remove the nests from the oven and allow them to cool.
Meanwhile, whisk together the eggs and milk.
Heat a large nonstick saut? pan over medium-high heat. Add the remaining oil or butter to the pan and heat.
Add the onions and peppers to the pan and saute until both are soft and the onions are slightly golden, about 2 to 3 minutes.
Add the sausage and cook until heated through.
Add the egg mixture and stir until the eggs have set and small curds have formed.
Season with salt and pepper to taste.
Remove the potato nests from the muffin tin and place them on an ovenproof platter or cookie sheet.
Fill each cup with some of the egg mixture, top with a sprinkling of the cheese, and place the nests in a 375° oven until the cheese is melted, about 2 to 3 minutes.
If you like, garnish each nest with a little parsley. Serve warm.