Parsley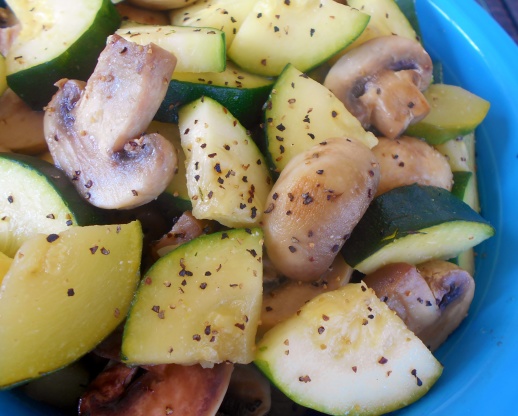 A simple side dish of zucchini and mushrooms. This is from "A Hundred Years of Island Cooking", and old cookbook from the Hawaiian Electric Company.

Very simple, but a delicious combination! Mushrooms and zucchini go very well together. The sherry added a nice, subtle flavor. This is a great use of summer's garden zucchini and it goes well with pretty much any main dish. I could actually eat this as a main dish. I added some garlic and decreased the butter a bit, but that's all I changed. Thanx for posting!
Wash zucchini; cut off ends. Cut zucchini into lengthwise halves, then crosswise into 1/2-inch slices.
In a large skillet, melt butter; saute mushrooms for 1/2 minute. Add zucchini; saute 1/2 minute.
Stir in remaining ingredients and continue cooking on medium heat for 4 to 5 minutes.