Sauteed Apples W/Raisins & Cognac (#8)
lazyme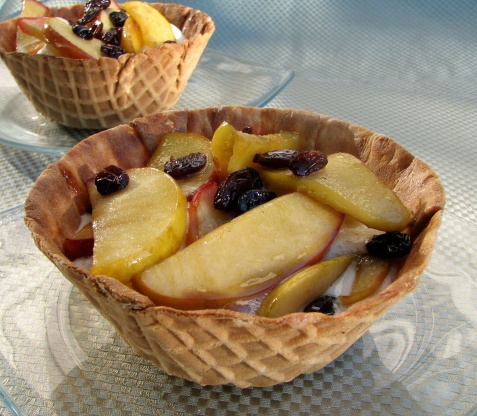 Still sharing my treasure trove of old recipes recently found again. As w/most of the others, the original source has been lost w/the passage of time. This sounds so good to me, is an amazing quick-fix & can be served hot or cold in several ways to create a lovely dessert. Enjoy!

These are the best apples we have had yet! I used Red Delicious apples and didnt have brandy or cognac so substituted apple cider. Didnt add the pecans because I served this along side pork chops and baked potatoes. So good warm and cant wait to make these for dessert! Thank you twissis for the wonderful recipe.
Melt butter in a non-stick skillet. Add apples & sprinkle w/sugar.
Saute (stirring constantly w/a wooden spoon) till apples begin to get tender (about 2-3 min).
Add raisins & saute for a couple of min to heat them through & continue to cook the apples.
Remove the skillet from the heat, stir in the cognac & swirl the apples around til it is well-mixed into the sauce.
Serving Suggestions: If you want to serve hot (or warm), use apple mixture to top pound cake slices or vanilla ice cream & sprinkle w/the chopped pecans. -- If you want to serve cold, refrigerate mixture till ready for use & then assemble the desserts as already stated.