Sautéed Broccoli With Garlic and Pine Nuts

A really tasty side dish! I love garlic and pine nuts, and broccoli too, so this is a winner with me! This recipe comes from Anna Teresa Callen, an Italian cook.
Directions
In a small dry skillet, toast the pine nuts, stirring constantly to brown evenly. Don't burn!
Chop the garlic fine. Set aside.
Separate the broccoli into florets. Peel the skinnier stems and cut into cubes (or reserve the stems for cream of broccoli soup).
In a large pot of rapidly boiling salted water, blanch the broccoli for about 8 minutes, until it is crisp-tender and still bright green.
Drain thoroughly in a colander.
In a sauté pan, heat the olive oil. Add the garlic and let it soften for a few minutes. Be careful not to let it burn.
Then add the broccoli and pine nuts to the pan. Toss carefully to coat everything well with the garlicky oil. Salt and pepper to taste. Turn into a warmed serving bowl and serve at once. Enjoy!
Reviews
Most Helpful
Delicious. I am always on the look out for new ways to cook veggies and this is going to be a keeper. Thanks Sharon123 for a fabulous recipe. Made for Let's P-A-R-T-Y! ~~2011~~ tag game.

We loved this! We eat broccoli about 4 times a week (sometimes more), so it's nice to try it done a different way! I used about half a large head of broccoli but kept all the other ingredients the same (I love pine nuts). It turned out fabulous! Tip: I found pine nuts were inexpensive sold in a small bag where the chopped nuts are hanging in the grocery store.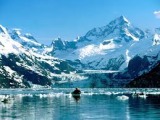 Very tasty. Pine nuts being somewhat expensive, I'll probably use almonds when making larger batches. I'll run the pine nuts (when used) through a quick chop in the food processor to get them to "stick" more to the broccoli as opposed to chasing them around on the plate. All in all though both thumbs up on this one.