Salsiccia E Peperoni-- Italian Sausage With Peppers
Bergy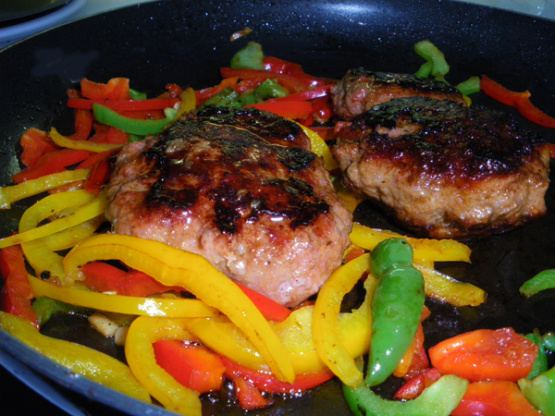 Charred Italian sausage served with peppers sautéed in olive oil and garlic. From Cafe Lucci :O) I will put in an estimate for the time.

I too used ground sausage and didn't use the olive oil when cooking the patties. After the patties were real browned I added the pepper mixture and the patties in a pan and cooked them on the grill for about an hour. This way the pepper flavor really drew through the patties. We all enjoyed these.
Sausage.
Preheat grill. Grill sausage to desired doneness and set aside, keeping warm.
Peppers.
Preheat sauté pan over medium-high heat. Add olive oil and peppers. Sauté for a couple of minutes until softened. Add garlic and sauté for another couple of minutes. Then add chicken stock and seasonings. Stir to incorporate all flavors and simmer over medium-high heat until stock is reduced by half, about five minutes.
Assembly.
For plate service, place sausage onto a large platter and spoon peppers on top.
Suggested wine - 2000 Franco Fiorina Barbaresco.