Royer's Cafe Buttermilk Pie
jsv828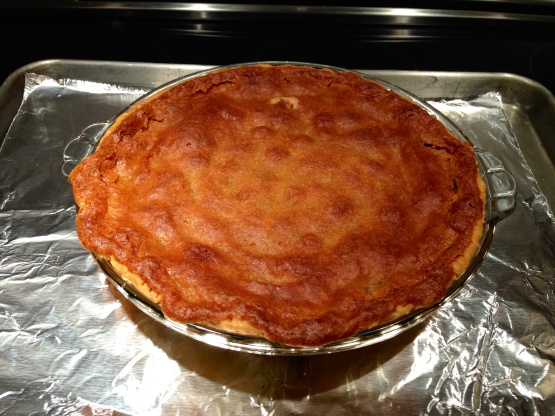 To DIE for! Now don't count your chickens before they are hatched. You may think, Buttermilk Pie? Trust me, it is AWESOME! The base recipe for this Buttermilk pie is from the Royers Cafe Cookbook. Their pies are now trademarked and they are NOT giving away any secrets that I am aware of! They now have another Buttermilk pie that has chocolate chips and pecans in it and has been known to send people over the edge! I am not sure how much they add to theirs BUT this is how much I have found works nicely. People come from all over just to visit this cafe and eat some pie. Royer's is a very well known little restaurant in Round Top which is just down the road from my hometown of Carmine. Both towns are VERY tiny towns that together MIGHT have a pop. of 200. If you are ever around this neck of the woods make sure you stop in and have some pie. Bud is almost always at the door ready to pick on you and make you feel right at home! Royers has even been seen on Food Network's, Road Tasted! Don't fret though, if you can't come to Texas, Texas can come to you! Royers ships their pies all over! Check them out at http://www.royersroundtopcafe.com/

Great tasting pie - VERY sweet. All I could find locally was deep dish pie crusts (I believe they are only 9 inch - no 10 inch that I could find) so this yielded 2 9 inch deep dish for me. I put 1/2 cup nuts in each and 3/4 choc chips, think I will back off the choc chips to 1/2 cup next time. I am not sure if the top is supposed to be golden brown and resemble a cookie, but mine did and the inside was very moist. I pulled them out at 1 hour and 10 minutes as I was afraid I had over cooked them (being smaller). Crust was done and they seemed fone - I just envisioned a custard pie but never having had a buttermilk pie before this may be exactly what it was supposed to be - I don't know. ;) Taste was wonderful - everyone ate it for dessert (Easter) and loved it - but just FYI - it will serve quite a few as it is RICH and decadent!!! Thanks for a lovely recipe, Mama!!
Cream butter and sugar together then add eggs and flour and mix well.
Mix buttermilk, nutmeg, and vanilla and stir into mixture.
Sprinkle chips and nuts into the unbaked shell and pour mixture over top.
Bake at 300 degrees for 1 1/2 hours or until set.