Roasted Zesty Parmesan Green Beans
AlanVG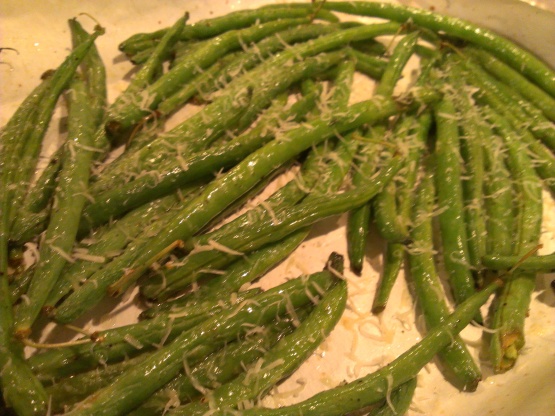 From my blog, http://validgeek.com - Ah yes, the green bean. What a wonderfully green vegetable! Unfortunately a lot of people think of them as bland or boring and think of green bean casserole… why not spice it up?! These are a little zesty and stay crispy since we're not smothering them in liquid… and the best part is, if you're on WeightWatchers – these are only 2 PointsPlus per serving!

Made this for the first time and found it to be an excallant way to make green beans, I did everything the recipe said but substituted Smoked Paprika and also cover my beans the first 15 minutes with foil and then took the foil off and finished them roasting just to get my beans cooked more.
Preheat your oven to 425°F Line a baking sheet with aluminum foil or parchment paper. Trim the ends off of your green beans, and spread them out evenly on the baking sheet.
Grab your olive oil and your drizzle it over the green beans. Shake the pan a couple of times to rotate the green beans to cover them fairly evenly. Add the salt, pepper, garlic powder, and paprika, and shake again to cover them evenly.
Pop them in the oven for 10 minutes, shake the pan again to flip them over, and put them back in for another 5 minutes.
After removing them from the oven, grate your Parmesan cheese over the top and serve!