Roasted Vegetables Plate With Cilantro Parsley Dressing
JustJanS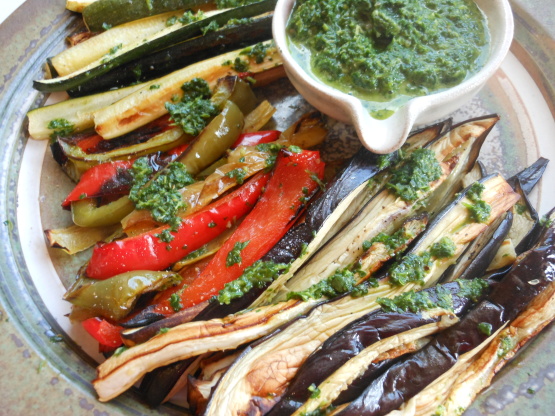 This plate looks wonderful and tastes heavenly. It's very easy and you can prepare this in advance. The dressing is mixed up like a pesto . You can use this dressing as well as a marinade for grilled chicken breasts and served them with grilled corn and a simple green salad. Shrimp or a good firm fish will also work well, just reduce the marinading time to about 30 minutes or so. The marinade adds a lot of flavor to light and easy meals for busy, hot summer days.

Russ and I both really enjoyed this thanks awalde. I used 1 eggplant, 2 small zuccs and the equivalent of 1 capsicum (mixed a few strips each of red, green and yellow) and about half the dressing as I have heaps of parsley growing right now (have quite a bit left over so am going to freeze it). I can imagine this as part of an antipasto platter, as a salad or a side. It's so easy to make and to eat that I can't wait to do it again soon. Have posted a photo but it seems to be lost in space ;-)
Toss all ingredients for dreessing into a blender.
You can always add some more olive oil to thin it out if needed. Blend until smooth.
Taste, adjust seasoning, and re-blend as needed.
Transfer to an airtight jar and store in the refrigerator until ready to use. Remember to shake well before each use.
Cut you vegetables in 1/2 inch thick pieces.
You will have to grill the vegetables in 3 portions (each kind separate).
Place your fist vegetable kind on the baking tray and broil until roasted (we needed about 15 minutes for each kind).
Place your vegetable kind on the serving plate.
Grill the second vegetable kind and then place it on the serving plate.
Repeat with the third kind.
Brush the dressing on the vegetables. Place the remaing dressing in a nice cup on the plate as well.
Serve it warm or cold.