Roast Pork, Stuffed with Stilton
GaylaJ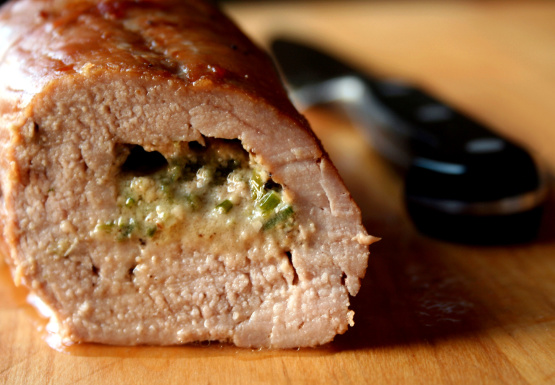 Creamy cheese (Stilton, Blue Cheese, or Goat Cheese) mashed and mixed well with fresh green onion makes a fast, full of flavour, stuffing for lean pork tenderloin. Fast dinner for two, or three. I increased the recipe, logically, for a dinner party for six. Recipe from April 2003 issue of Chatelaine Magazine.

Top Review by Kasha
Just ate this with Toolie's sauteed carrots and leeks. Brilliant dinner. It was fast and easy to make. As I can't get Stilton here, I used a firm but squooshable blue cheese called Fourme d'Ambert, and mixed it with the green onions. All of the stuffing stayed inside during the cooking, not a single leak, but cutting was tricky and messy. This would be really good with lumpy mashed potatoes as you get quite a lot of sauce-juice from the cheese. I was very happy to have put down the tin foil in the pan--no clean up. I rubbed with teriyaki and drizzled with olive oil. This will be what I make next time we have a dinner party. I would think it could be rolled and stuffed in advance, then just cooked at the last minute. Also served a nice salad with Silent Cricket's mother's fantastic dressing that tastes better than Catalina. A real keeper for the future, and possible change -the-cheese and see how it comes out. They say there are more than 356 different kinds of cheese in France....
Preheat oven to 450 degrees F (230C).
Line a baking sheet with foil and set aside.
In a small bowl, using a fork, mash cheese and mix well with onions.
Using your hands, form cheese into a long, thin log, about 8 inches (20 cm) long and 3/4 inch (2 cm) wide.
Place meat on a large cutting board.
Using a sharp knife, slice pork lengthwise, down the center, cutting almost but not completely through the meat.
Spread out at flat as possible.
Cover with a piece of plastic-wrap.
Using a meat mallet, pound pork just until it is uniformly thick- 1/4 inch (0. 5 cm) thick.
Sprinkle pepper over pork.
Place cheese log on long edge of meat, then roll meat around it, jelly-roll style.
Fasten with a few toothpicks.
Place, toothpick-side down, on baking sheet.
In a small bowl stir teriyaki (or soy) sauce with oil.
Brush over pork.
Roast, uncovered in centre of 450F (230C) oven until pork is firm when pressed; (from 20-25 minutes).
Don't worry if a little melted cheese leaks out.
Remove from oven and let stand 5 minutes.
Serve with roasted new potatoes and Balsamic Green Beans and Pancetta.