Roast Pork Loin and Potatoes
Tiggrr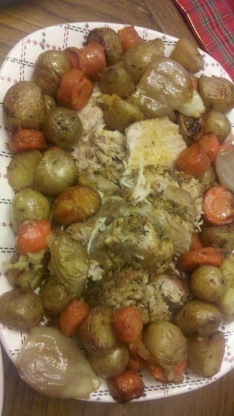 This is the ultimate Italian pork roast. Covering it the first 2 hours of baking is the secret. The recipe comes from Bon Appetit.

Top Review by nnreq
This was a very good recipe. I followed the directions but the only change I made was that I used a 3 pound boneless pork loin roast. This makes the juciest, most flavorful roast that I have ever tasted. The potaotes turned out great too. thanks for a great recipe.
Preheat oven 375°.
Whisk 1/4 cup oil, garlic, butter, sage and rosemary in a small bowl to blend.
Place pork in large roast pan.
Sprinkle with salt and pepper.
Rub herb mixture over pork (can be made 1 day ahead. Cover and chill).
Cover pork loosely with foil and roast 2 hours.
Divide remaining 1/4 cup oil between 2 heavy skillets.
Heat oil over medium-high heat.
Divide potatoes between skillets.
Sprinkle with salt and pepper.
Sauté until potatoes are golden brown but not tender, about 15 minutes.
Transfer potatoes to roasting pan with pork.
Toss potatoes in pan juices.
Continue roasting, uncovered, until pork browns, potatoes are tender, about 40 minutes.
Place pork in center of platter, surround with potatoes.
Pour pan juices into glass measuring cup.
Spoon off fat.
Pour juices over pork and potatoes.