Roaring Fork Tomato Salad
Bobtail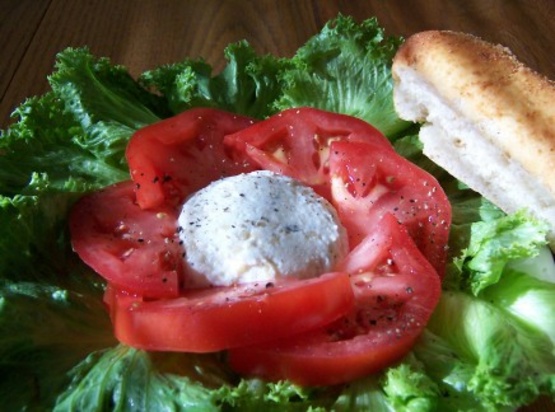 From the local newspaper; a twist on the usual tomato salad. Simple to make but with a beautiful presentation for summer brunch or parties. Fresh basil and tomatoes make this a real treat! Prep time does not include overnight chilling of ricotta mixture.

This salad confirms that simple food is the best! I did reduce the salad to only serve two people. I used a curly leaf lettuce and choose elephant garlic for the ricotta mixture. Fresh basil was unavailable, therefore I used dried. Next time, I will definitely increase the garlic and use regular garlic. I felt the elephant garlic was too mild. Lovely, simple and delicious salad! It would be great as a side salad for a meal or as a light simple lunch! Very versatile! Thanks Winkki!
(To blanch garlic, simmer unpeeled cloves in small pot of water. Cook 10-15 min, peel and use or store in jar of oil in refrigerator.) Puree ricotta, garlic, and spices.
Mix in minced basil leaves.
Cover and refrigerate overnight.
Line platter with lettuce leaves.
Overlap tomato slices around platter, leaving space in the middle.
Spoon ricotta mixture into center of platter.
Garnish with whole basil leaves.