Ricotta With Raw Honey and Pears
Debbwl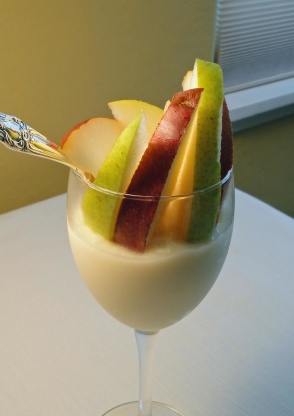 Taken from the Whole Foods market website and posted for ZWT. "Sweet and healthful, this dessert bridges the seasons between summer and autumn by combining crisp pears with Italian ricotta cheese whipped with raw honey. A delectable way to celebrate the changing seasons." Sounds wonderful and light, for after a summer supper. **Cook/prep time does NOT include 2 hour refrigeration time.
Blend ricotta, honey and vanilla extract in a food processor until smooth; transfer to a bowl.
Cover bowl and refrigerate until ricotta mixture is slightly set, about 2 hours.
Just before serving, slice pears lengthwise into wide sections; gently toss pear slices in a small bowl with lemon juice.
Divide ricotta mixture among 6 wineglasses.
Top with pear slices and serve.