Rita1652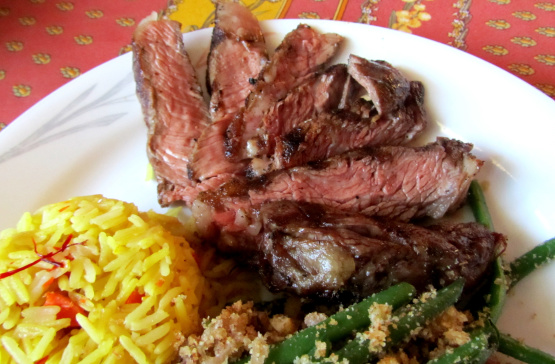 This recipe is from Southern Living , December 2002. I found it to be the perfect rub for my steaks. I let the steaks stand at room temperature in the marinade for an hour prior to grilling to help the meat cook evenly. I hope you find this as delicious as I did. Enjoy.

Excellently easy and tasty! I did make 3 steaks that weighed almost 4 pounds. So my grilling time was longer. I did start over direct heat and did score the meat doing a quarter turn after 3 minutes. Flipped lowering the heat after 3 minutes did a quarter turn for 3 more minutes. Then place on indirect heat for 3 more minute. Let sit at room temperature for 10 minutes before slicing. Using half the salt, the chili powder I used was chipotle chili so yummy! Thanks for the good eats! I did find it delish as you did! OH!!!! It is ideal better then ideal to bring the meat to room temperature before grilling! ;)
Combine first 5 ingredients, and rub over steaks.
Let stand 1 hour.
Grill, covered with grill lid, over high heat (400° to 500°) 7 minutes.
Turn steaks, and grill 5 more minutes or to desired degree of doneness.