Refreshing Spinach & Chickpea Veggie Salad
Keeferop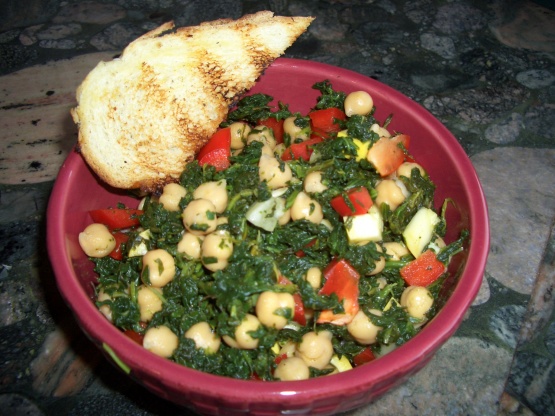 This salad is very refreshing and versatile. It is perfect for those warm summer days. It is very light, but it may be moistened with some extra virgin olive oil or topped with cheese (feta would go nicely). I served it with toasted italian bread in a bruschetta like-way. Enjoy!

Outstanding!! I used fresh spinach, sauted with a couple of minced garlic cloves in a couple of tbls of olive oil. Then followed the recipe. It was a perfect light dinner! Thank you Chef-girl-OV!!
Cook the spinach according to the directions on the package. Chop the cooked spinach if not packaged as chopped. Drain well.
Mix the spinach, chickpeas, red bell-pepper, squash, cucumber, & chives in a bowl.
Add the juice of 1/2 lemon (you may add more lemon juice or olive oil if desired).
Season with salt & pepper to taste.
Serve chilled or room temperature with toasted white bread splashed with olive oil and rubbed w/ garlic.
Makes about 12 half cup servings.