Reeses Squares - 5 Ingredients & No Bake (Reese's)
Ashley Cuoco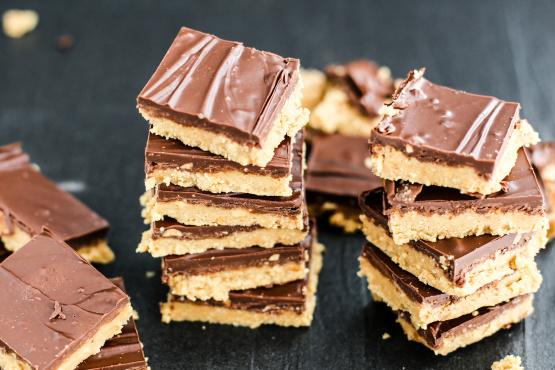 These bars are EXTREMELY RICH and not for people with a fear of CHOCOLATE and PEANUT BUTTER (if those people actually exist)!!! Very easy no bake 5 ingredient recipe!

Well, these were really fantastic. Easy to make and easy to eat. I lined my baking pan with a sheet of baking paper before pressing the mixture into the pan. After pouring in the chocolate I let it sit on the counter until the chocolate was just firm. Then I lifted the whole thing out of the pan and it cut very easily into bite sized squares which I then refridgerated. We don't have Reeses cups here in Aus (that I know of) but judging by the response I had when I took these to a party last night, Reeses would do very well here! I would serve these in small squares with coffee.
Combine graham crumbs, sugar and peanut butter and mix well.
Blend in melted butter until well combined.
Press mixture evenly into a 9 x 13 inch pan.
Melt chocolate chips in microwave or in double boiler.
Spread over peanut butter mixture.
Chill until just set and cut into bars (these are very hard to cut if the chocolate gets "rock hard".