Quick Chile Relleno Casserole
Bobtail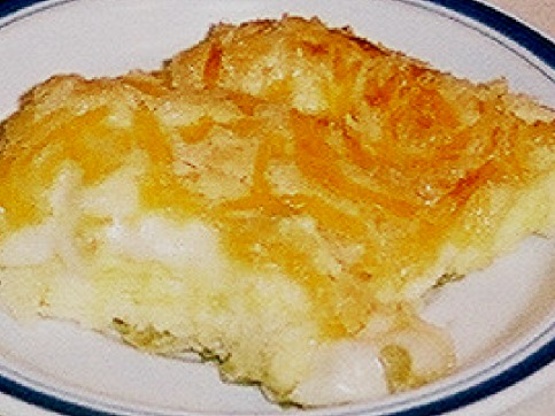 My mother has been making this recipe for years. Its quick and easy and comes close to the original. I am not a big fan of the "chile". I have substitued chopped green chiles and shredded the jack cheese - which I actually prefer - but either way, this is a tasty one!

I love this recipe and will definitely make it again. The casserole puffed up beautifully! We used 3 fresh poblano chiles, which I roasted just prior to putting the in dish. I put a gravy boat of ranchero red (enchilada) sauce on the table, to be used instead of marinara, and I served oven-warmed flour tortillas and butter, and freshly made guacamole with the casserole. Awesome meal! Thanks!
Remove seeds and pith from green chiles.
Cut the jack cheese into large slices and divide evenly between the chiles, folding or tucking the cheese inside.
Butter (or spray with Pam) a 1 1/2-quart casserole dish and arrange the chiles side by side on the bottom.
With an electric mixer, beat eggs until thick and foamy.
Add milk, flour and baking powder and beat until smooth.
Pour egg mixture over the chiles and sprinkle with the cheddar cheese.
Bake, uncovered, in a 375F oven for about 30 minutes or until casserole is puffed and appears set when gently shaken.
Just before casserole is ready, heat marinara sauce to pour over individual servings if so desired.