Reg K.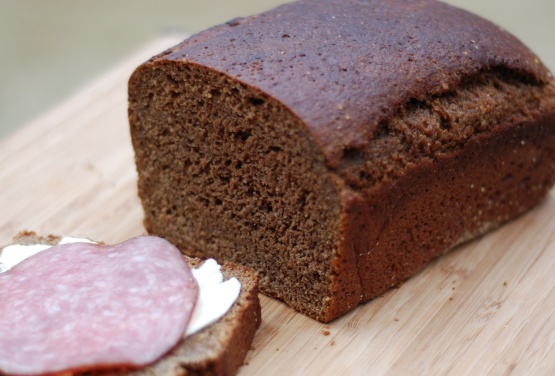 This is wonderful slathered with butter...and what an aroma fills the air when this bread is baking.

This was good and reminded me of Anadama bread. This wasn't the earthy pumpernickel I was craving, a bit too sweet for that. Also, I added about 1/2 teaspoon of salt as the batter was bland. A perfectly good quick bread.
Set oven to 350 degrees.
Grease 1 9" x 5" loaf pan.
In a bowl, combine rye flour, cornmeal, whole wheat flour, baking powder, baking soda and caraway seeds.
In a small bowl, beat eggs, molasses, milk and oil.
Pour the wet ingredients over the dry ingredients; stir with a wooden spoon to blend.
Pour batter into prepared loaf pan.
Sprinkle with sesame seeds.
Bake 50-60 minu8tes, or until loaf tests done.
Remove bread from pan, cool on wire rack.