ImPat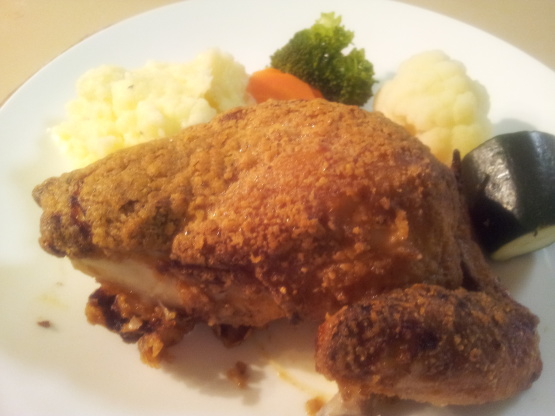 This chicken gets a nice lemony taste from the marinade before it is baked. I included the marinating time in the prep time....don't let it marinate longer or the lemon will start to cook the chicken! To reduce the fat content, remove the skin from your chicken. If you do this, reduce the cook time a bit or your chicken will dry out.

Pure yum! I love lemon and, of course, a lemon chicken recipe. This is a good one, everything comes together smoothly for a lovely depth of flavor that will make you smile year round. The chicken is very tender and something the whole family should enjoy.
Place the chicken in a large zip-top heavy-duty plastic bag. Combine the oil and next 6 ingredients in a bowl. Pour the marinade mixture over the chicken. Seal the bag tightly. Marinate the chicken for 1 hour in the refrigerator, turning occasionally. (I put my bag in a bowl just in case one of the bones pierces the bag).
Combine flour, paprika, 1 tsp salt, and 1/4 tsp pepper; stir well.
Remove chicken from the marinade; discard marinade. Dredge the chicken in the flour mixture, and place in a lightly greased 13x9x2 inch baking dish. Brush the melted butter over the chicken. Bake, uncovered, at 400 degrees for 30 minutes. Turn the chicken over, and baste with the pan drippings. Bake an additional 30 minutes.