alligirl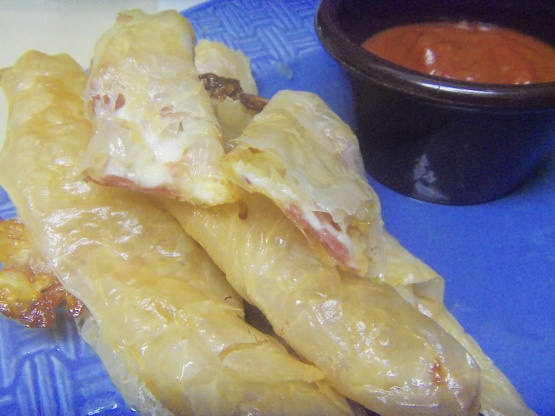 This is from an old Leggo's book, love the sound of this for a party appetiser.

I love phyllo dough, but it is such a pain to work with....That said, these are very tasty! I reduced the recipe to make 6 grissini, and used s tomato based sauce for dipping, which was perfect! I always see so much butter left on the pan after cooking, but I know they wouldn't be near as good or flaky, without all that butter, puffing the pastry as it heats up. I will make these again, next time I commit myself to a box of phyllo dough, and include them in an appy 'spread.' Thanks for sharing, **Mandy**!
Mix cheese, salami & cream together.
Brush one sheet of phyllo with butter, top with another sheet and brush again with butter.
Cut pastry sheet into 6 rectangles and place one teaspoonful of salami mixture at one end of each rectangle and roll the pastry up to enclose the filling.
Repeat with remaining pastry & salami.
Brush with remaining butter & bake at 200.C for 10-15 minutes.
Serve with a tomato sipping sauce. Recipe #335677 is good!