Prosciutto & Cheese Flatbreads
-Sylvie-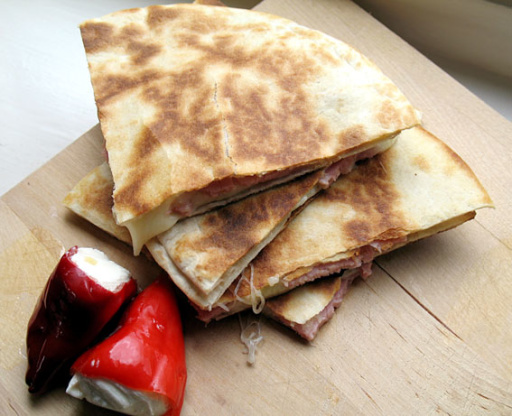 This was posted in a supermarket magazine as a suggestion as a half-time snack for the upcoming Football World Cup. I thought it looked good and posted it here for safekeeping and to share. A bit like a quesadilla.
Place half of the tortillas flat onto a work surface.
Divide the prosciutto ham between them and top with the gruyere.
Top with the four remaining tortillas.
Heat a little olive oil in a large skillet, add one tortilla sandwich at a time and cook on medium heat for approximately 2-3 minutes before carefully turning and cooking the other side for a further 2-3 minutes.
Remove from pan and keep warm whilst cooking the remaining tortillas.
Cut into wedges and serve with fresh arugula/rocket.