Prize Winning Pumpkin Pie
Chef Dee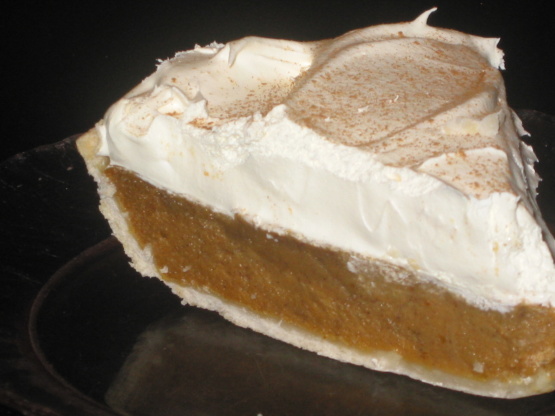 I misread a recipe, and this was the result. It was voted best pie in town and receives much praise when served.

This pumpkin pie tasted great! It was an easy, no fuss recipe, and everyone enjoyed it. (It's gone already, and I only baked it this morning!) I used a deep dish pie shell, which was just the right size for the amount of pumpkin mixture. At the end of the baking time, the filling rose up in the shell, and flattened when I took it out of the oven. This caused 'wrinkles' on the surface of the pie. Apart from this small problem, I was very happy with the taste and texture of this recipe. Thanks, Chef Dee!
Preheat oven to 355 degrees.
In a large mixing bowl, whisk the eggs.
Add the remaining ingredients and pour into shell.
Bake 50-60 min's until set.
Cool on counter for 1 hr, then refrigerate.
Top with Cool Whip.
Sprinkle lightly with cinnamon.