Potato Omelet (Torta De Papas)
twissis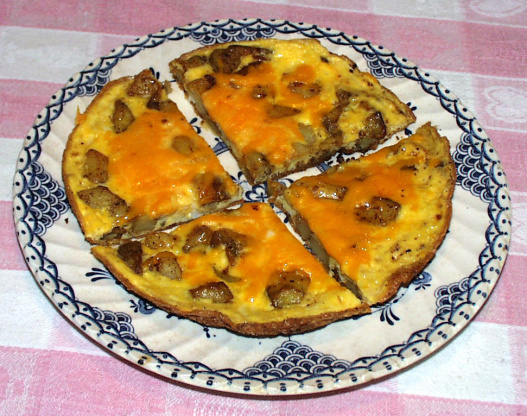 Posted for Zaar World Tour II, this simple Chilean dish is from Eliana Parra and Sundays at Moosewood Restaurant. Serve it with Salsa De Cilantro (Pebre) Salsa De Cilantro - Pebre and, even though the recipe does not call for it, top it with your favorite grated cheese.

Good, but kind of greasy for our tastes even after draining the potatoes well. Next time I will boil the potatoes and lightly pan fry instead of deep frying. In itself, this is kind of bland, luckily I tried the recommended cilantro salsa and now THAT was terrific!
Wash and peel (peeling is optional) potatoes; slice into 1/4" rounds.
Heat oil in heavy frypan until very hot, but not smoking; fry potatoes for 5 minutes, turning occasionally, until golden-brown; remove potatoes to absorbent paper to drain.
Beat eggs well with parsley; add salt and pepper to taste; add the drained potatoes.
Discard all but 3 tablespoons of the oil from the frypan; reheat if necessary; slowly pour egg-potato mixture into the pan; distribute the potatoes evenly; cover frypan and cook omelet for 4 minutes on medium-low heat; turn omelet over and cook, covered, another 4 minutes; top with some grated cheese, if desired, to melt during the last couple of minutes in frypan; carefully remove omelet from pan and cut into 4 servings.