M. G.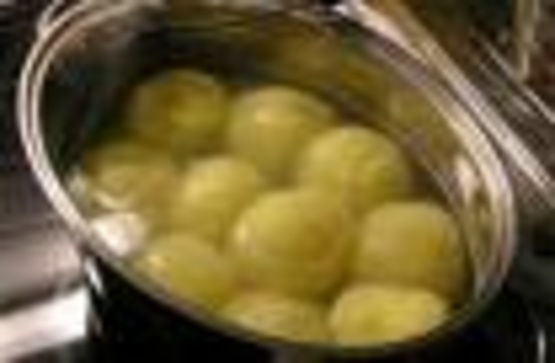 My Dad always made this family recipe when I was growing up. I'm sure he'll be proud to see I like it enough to share! These are the REAL thing!.......original German potato dumplings!

I learned how to make these kind of potato dumplings (raw grated potatoes) from my mother, who was from Norwegian heritage. She dropped them in split pea soup to cook; they were done when they floated to the top. She also called them respakaka (not sure of the spelling). They were served with the soup, with melted butter on top! I'm glad to know that others have experienced these dumplings. I've made split pea soup with respakakas for as long as I've cooked. My family and friends look forward to them!
Peel 10-12 medium potatoes (about 7 cups).
In a large bowl, shred potatoes. I have a 7 cup food processor and it makes the job really quick. Otherwise, a hand grater is all you need.
In a separate small bowl -- mix the eggs and salt and pepper.
Pour the egg mixture over the shredded potatoes and using your hands, mix well.
Gradually add in the flour, again using your hands. This is very heavy and gooey and is usually too much work for your mixer or it's blades.
Fill a large pot 3/4 full with water and bring to a boil.
Using a generous amount of flour on your hands, scoop a handful of the potato mixture into your hands and form into a ball. Place each dumpling on a cookie sheet for an easy transfer to the boiling water. (Recipe makes 10-12 baseball sized dumplings.).
Once water reaches a rolling boil, gently add each dumpling and continue to boil until the dumplings float.
Remove the dumplings from the water using a slotted spoon or strainer spoon and place in serving dish. Best served hot with gravy or sauerkraut.
Dumplings also make one of the best leftover breakfast items ever! Chop into bite sized pieces and saute with butter and garlic salt to put a crowd pleasing twist on traditional hashbrowns!