DuChick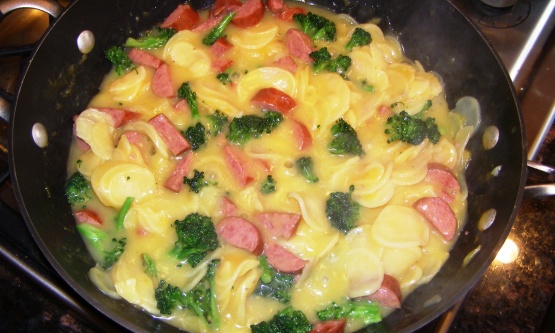 Cheesy potatoes with Broccoli. Kielbasa gives this dish fantastic flavor. A weeknight meal sure to please. I think this came from Betty Crocker. You wont be dissapointed! Yum! Have to try this quick and easy meal.

This was pretty good for a weeknight meal. Not gourmet, but a quick and tasty dish to put on the table within 30 minutes. I did add another cup of water since once the the dried potatoes and cheese packets were added, there was very little liquid left. I'm glad I did--it made the dish very creamy. I also used fresh broccoli rather than frozen.
In Large skillet add water, milk, butter. Cook to a boil. Stir in uncooked potatoes and cheese sauce package from box. Add kielbasa and mix well. Reduce heat cover and cook 15 minutes. Add Broccoli cover and cook another 8 minutes or until potatoes are tender. Sauce will thincken as it stands. YUM!